Overview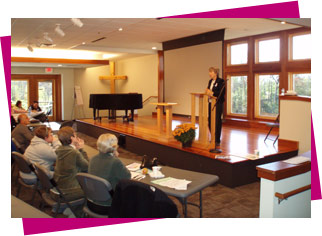 Mount Olivet Rolling Acres places a high value on quality training and skill development for our staff. To have a broader impact on the lives of people living with challenging disabilities, we share many of our training programs with colleagues and caregivers. Over 150 organizations throughout Minnesota and North Dakota have attened our trainings.
We offer education and training programs of interest to direct service professionals, Qualified Developmental Disabilities Professionals (QDDP's), social workers, nurses, managers, parents, behavior analysts, and others who support people with disabilities.
Opportunities include our Annual Fall Conference and a variety of classes that meet licensure requirements for Training for Caregivers. In addition, we offer Other Training Opportunities for personalized training designed to meet your individual needs.
To schedule a class or workshop at your location, or to discuss customized training options, call Derek Rust at 952.474.5974 or e-mail us at training@mtolivetrollingacres.org.